What are the shipping costs?
Same day preparation and shipping for all orders received before 1.00 pm
How long do we take?
many services for all needs
The courier at your disposal
We pack the products you have purchased with the utmost care in safe and anti-breakage packaging.
When we will entrust your package to the courier, if you have also left your mobile phone number, you will receive a confirmation WhatsApp message with the shipment tracking code. If you have not left a telephone number, you will still receive an email from us and/or the courier to find out the day of delivery.
Shipping Detailed Information
1. Countries to which it ships
We carry out shipments to all of Italy (peninsula and islands) and all of Europe.
2. Shipping costs
Shipments are always free throughout Italy for orders equal to or greater than €59. Below this figure they are €5.90 in Italy. For Europe, the basic rate changes, starting from €21.90.
For orders with cash on delivery, there is a fixed additional cost of €1.50 regardless of the order value.
3. Time of receipt of the order
Since all our products are ready for delivery in our warehouse, the products of your order are processed and entrusted to the express courier within 1/2 working days.
Delivery will take place 24/48 hours after the delivery to the courier, excluding weekends and holidays. The times indicated are related to delivery on the peninsula and on the major islands.
We are doing our best to ensure standard delivery times. We apologize for any delays due to the international health emergency and/or periods of congestion such as August and December.
4. Delivery times
The courier delivers from Monday to Friday from 9:00 to 18:00.
To find out the options for customizing the delivery day and/or time, you can refer directly to the website or APP of the courier in charge, entering the tracking number that you will receive via email and/or WhatsApp.
5. How to ship the order to an address other than your home (workplace, gift)
It is possible to ship the ordered products to an address other than your home, whether this is your workplace or the home of a third person to whom you wish to send a gift.
When ordering, you can indicate in the appropriate space the address to which you wish the product to be delivered by ticking the appropriate box.
6. In the event that no one is present at the time of delivery
In this case the courier leaves a notice of its passage and then gets in touch with our staff to inform us that the product is in storage at their warehouses.
We will arrange for the package to be returned to delivery. For any information, our Customer Service is at your disposal.
7. Days on which shipments are not made
The express courier does not deliver on Saturdays and Sundays. It is also not operational on the following dates, which may delay the estimated delivery times.
January 1st
January 6th
Easter Sunday
Easter Monday
25 April
May 1
June 2nd
August 15th
November 1st
8 December
December 24th
25th December
December 26th
December 31 afternoon
For any information you can write us an email to info@gimmewine.it, start our chat on WhatsApp above, or call us on 0586.1837787 and follow the voice guide. If you prefer, you can also access our quick Customer Service section.
How we store the products
All the products on our online store are stored in our warehouse located in Collesalvetti, Italy. Our passion for wine and love for our work mean that we take care of all our boxed wines every day as accurately as possible, kept at the right temperature and away from heat sources.
How do we ship your boxed wines in the warmer months?
Our only goal is the pursuit of excellence, in product and service. The care we reserve in packing the products to be shipped becomes even more obsessive in the summer period to ensure that the products maintain their quality during shipments in the warmer months.
how we ship your boxed wines
For our shipping boxes, we only use double-walled cardboard, which guarantees greater impact resistance and allows your products to arrive without damage.
More information on the protections we put inside?
our advice on how
How to keep your Wines in Box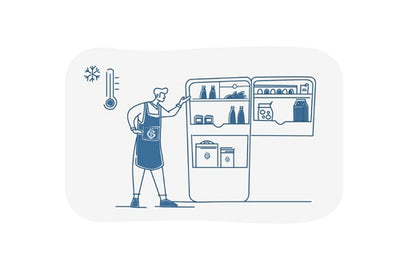 In a cool place
Do you have a cellar? A garage or a basement? Excellent, keep your wines in boxes here, they are placed with a little humidity and the wine likes it a lot to keep in shape.
Away from the sun
Do you keep your freshly opened boxed wine on a shelf in the kitchen where the sun is shining? It would be better to remove it from here and move it to a spot where there is always shade.
In a well-ventilated place
Try to keep your wine in an open box, on a sideboard, on a piece of furniture or in any other place, but avoid keeping it in a wall unit closed by a door.