The project that distinguishes Cupertinum combines the quality of the production and the creation of a virtuous circuit between valorisation of the territory, culture, environment, tourism and sociality. In recent years, Cupertinum has organized many educational events with elementary and middle schools and, with the help of the Unione Italiana Ciechi, has also involved blind and visually impaired children. Days dedicated to agri-culture (viticulture - in particular the grape harvest, olive growing, beekeeping). Cupertinum has also made the large park-garden surrounding the winery usable, which it has enriched with an internal vineyard and a beekeeping activity. Speaking of attention to the environment, in 2021, together with
Sorgenia, Cupertinum has created an innovative photovoltaic system, located on the roof of the cellar, which significantly reduces energy consumption.
Let's find out together
The family and history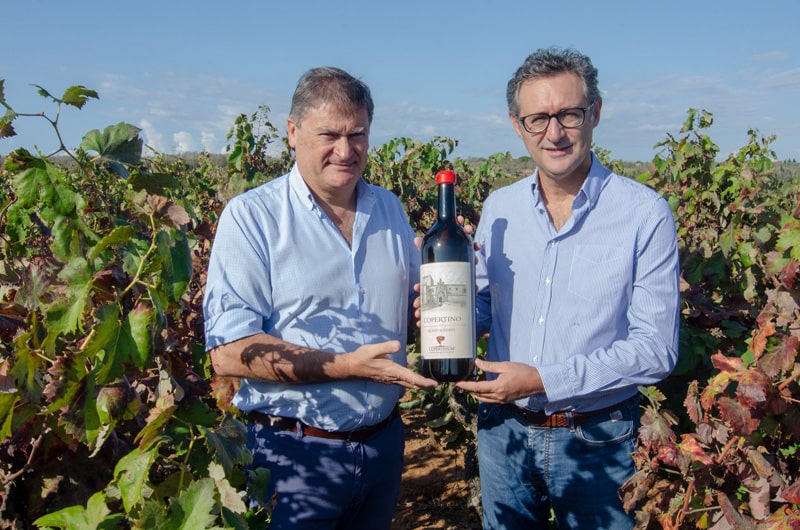 Let's find out together
The family and history
Cupertinum, founded in 1935, is the oldest cooperative winery in the province of Lecce. As well as many journalists and experts, three masters of wine criticism have also written about the excellence of Cupertinum wines: Luigi Veronelli, Hugh Johnson and Gianni Mura. The vineyard is located on the ramparts and was planted in 2014 with a sapling training system. With the grapes of this vineyard a wine will be produced which will be auctioned off, the proceeds will go to support a project of territorial valorisation. Another project promoted by the winery deserves to be mentioned, it is the publication of Cupertinum doc. Since 2011, year after year, he has enhanced the relationships between culture, territory, environment, agriculture, interviewing writers, musicians, philosophers, actors, chefs, journalists and designers. During the year, dozens of book presentations, concerts and cultural events take place in the cellar.
The products of Cantina Copertino